You can now add Techmeme's events list to your own calendar
Posted Monday, April 25, 2016 4:10PM ET by
Gabe Rivera
Permalink
As tech news events and industry conferences proliferate, Techmeme's events calendar has become an ever more vital resource for all sorts of technology professionals. Previously available only on the web, it's now available in iCalendar format, letting you automatically keep your Google, Apple, Outlook.com, or Yahoo calendar in sync. Moreover, any calendar software that lets you subscribe via iCalendar URLs should be compatible.
It bears explaining that Techmeme actually offers two calendars. There's the "newsy" events list shown on our front page. These are the events we expect to produce news on Techmeme. And then there's the complete list that includes many of the bigger industry events that are national or international in scope. Naturally, it contains all the events in the newsy list, and many more. We offer iCalendar URLs for both the newsy and the complete calendar, letting you subscribe to whichever based on how many events you desire.
How to add Techmeme's events to your calendar
To keep your calendar in sync with Techmeme's events, first copy one of these two URLs:
http://techmeme.com/newsy_events.ics (for newsy events)
http://techmeme.com/events.ics (for all events)
Then add depending on your calendar. Some popular ones:
Google Calendar: find "Other calendars" on the left and click the arrow button to the right, click "Add by URL", paste URL into the "URL" box, then click "Add Calendar".
Apple Calendar: click "File" menu, click "New Calendar Subscription…", paste URL in "Calendar URL" box, click "Subscribe", change "Auto-refresh" to "Every day", click "OK".
Outlook.com calendar: click "Import" along the top, click "Subscribe" on the left, paste URL into the "Calendar URL" box, enter "Techmeme events" in "Calendar name" box, click "Subscribe".
Yahoo Calendar: find "Actions" menu just above your calendar, click "Follow Other Calendars", enter "Techmeme events" in the top box, paste URL into "iCal Address" box, click "Continue".
What will Techmeme's events look like in my calendar?
Techmeme represents events as all-day events in the iCalendar format we publish. So a one-day event from 9am-5pm will be represented as an all-day event, and a three-day conference will be represented as an event spanning three full days. Although all-day events lack hourly precision, most people will appreciate this choice, as it keeps Techmeme's events nicely corralled in the all-day event area hovering above your daily schedule and not competing visually with your personal calendar events.
But there is one small gotcha: because events are listed by the date in the time zone in which they're held, confusion can result for users in the Americas referring to events in Asia-Pacific time zones, and vice versa. For example, if you live in the U.S. and it's the 24th there, an event listed as taking place on the 24th in Sydney actually occurred the day before. Likewise, if you live in Hong Kong and it's the 12th, a California-based event listed for the 12th won't happen until the following day for you. So be advised if you're keeping close watch on events happening on the other side of the international date line.
Interested in adding your event to Techmeme's calendar?
If our calendar is missing a major tech event, please let us know at . There's no cost to add an event to our complete list, and our criteria for inclusion is broad. (Still, we rarely include regional or evening events, or pages that merely announce a date.) If you want your event to appear on Techmeme's front page, we offer paid options. Paid events will appear both among the newsy events on our front page and in our complete calendar, and will sync with subscribers' calendars via the corresponding iCalendar formats.
What else can I promote on Techmeme?
Companies can promote blog posts and other announcements among our Sponsor Posts and can promote their job opening by listing in our "Who's Hiring" area. For more information, refer to this page, or email .
10 shocking (or at least interesting) facts about Techmeme on its 10th birthday
Techmeme launched on September 12, 2005 amid a flurry of blog posts from Robert Scoble, Richard MacManus, and several others. Friends and Techmeme team members have insisted we need to mark this anniversary, so I reluctantly wrote the following listicle, which now that I've finished, I am glad I wrote. Enjoy!
Techmeme didn't launch with the name "Techmeme", or even its own top level domain. Instead, it launched as tech.memeorandum, the technology offshoot of memeorandum, an automated aggregator of news and commentary mainly around US politics. (memeorandum launched in January 2004 and still lives on today, but could probably use a redesign, rebranding, and editors.) On the day memeorandum's improved automated engine and redesign were announced, its sister site for tech news, tech.memeorandum went live on the subdomain tech.memeorandum.com. After tech.memeorandum quickly eclipsed memeorandum in traffic, it became clear it deserved its own domain, and moved to Techmeme.com the following May.
Techmeme's original mission statement still holds up nicely today, allowing for a few addendums. The goals outlined here in 2005 (1. Recognize the web as editor, 2. Rapidly uncover new sources, and 3. Relate the conversation) endure even to this day. However, as Techmeme became the first stop for tech news for a growing and influential segment of the tech industry, other goals became imperative too. In particular: strive for comprehensive coverage of the day's most significant tech stories, and post big, breaking news story quickly.
Although it has almost no direct competition today, Techmeme was reportedly beset by a legion of competitors for years. In the months after it launched, Techmeme was considered to be an exemplar among discovery and search services in the blogging space, a purportedly burgeoning industry. Moreover, its fully automated implementation at the time appeared on the surface to rely on a simple technological process (Step 1: Scan feeds … Step 2. Sort posts by inbound links.) Inevitably, an assortment of Techmeme-like sites was soon competing for attention. While a few sites were clearly imitators, others were, like Techmeme, iterations on ideas bubbling up at the time.

And so we would see TechCrunch comparing Techmeme (née tech.memeorandum) to services with names like Blogniscient, Megite, and Chuquet. Later the phrase "Techmeme Killer" would appear fairly regularly in headlines, most notably when Google itself introduced a would-be "Techmeme Killer". Even after Techmeme survived Google's Techmeme-killer, services like ePlatform and TechFuga would still elicit comparisons to Techmeme, while TechCrunch would later say of Tweetmeme, a Techmeme-like aggregator of tweets "If I were Gabe Rivera, I'd start worrying now".

As you can probably guess, each of the above services mentioned above (Google Blogsearch included) no longer exists.

Today, it's rare for a new service to come along that is considered to be direct competition for Techmeme, for a couple reasons. First, in the proceeding years, Techmeme introduced elements like human editing and rewritten headlines that made cloning more than just a problem of deploying code. Second, most media entrepreneurs now see more potential through other avenues. Unicorn valuations in media today are thought to be won through BuzzFeed-like strategies to attain BuzzFeed-level scale, not building another industry news aggregator.
Techmeme has lots of indirect competition, including Twitter, Facebook, and blogs. Like all media sites, Techmeme's real competition comes from whatever is best at diverting attention that it might otherwise draw. So foremost among Techmeme's "competitors" are Twitter, Facebook, blogs that function as news aggregators, and, in fact, media of all forms (not to mention sunshine, children, and puppies). A person who is content to gather technology news through what friends share on Facebook, or by scanning thousands of tweets each day, may be less likely to rely on Techmeme. On the other hand, because this competition exists, those that do rely on Techmeme happen to be the most demanding and informed readers, the ones who know they can't stay current on actionable news by merely consuming social media feeds. So while competition may curtail Techmeme's readership somewhat, it has the effect of making our average reader more valuable.
Lately we've been more about building team and process than technology. While Techmeme's foundation is a suite of technologies that continues to evolve, the bulk of our work in recent years has been directed at hiring and training editors, and perfecting the processes that strengthen our editorial product. In this way, we have more in common with news organizations than, say, Google News or Nuzzel. While it's possible the balance may shift again in the years ahead, our reliance on human editors will not wane (until such time as AI has progressed to the point where robots write hit songs and screenplays.)
Techmeme usually has only one editor working at a time. In 2008 we announced we were coupling our algorithmic engine with our first human editor. Since then, we've hired several more editors to provide near-24/7 coverage. Even with those additional editors, we still follow a model in which usually just one editor works on Techmeme at a time. Mediagazer, Techmeme's sister site for media news, employs editors as well, but again, mainly just one at a time. While there are moments throughout the day when a second Techmeme editor assists the first, facilitated by an editing system designed for collaboration, more often than not, it's just one human editor alongside our automation.
Our editing model leads to a highly distributed and international team, and no offices. Covering news 24/7, but with only one editor working a site at a time leads to an organization built around working from home, so long as those home offices span many time zones. The flexibility that comes with working from home has enabled us to tap talent pools unavailable to other kinds of organizations, particularly stay-at-home parents and full time college students. One result of this is a fairly broad range of ages among our editors, a form of diversity emphasized not very frequently in commentary on inclusion in Techmeme stories, but nonetheless a real asset for many organizations.
Opting not to host articles profoundly affects the way news can be conveyed for non-obvious reasons. Because Techmeme doesn't host its own stories, we're never tempted to publish more articles than our readers want just to goose traffic. Also, when we do publish new links, we're never tempted to use headlines designed to force you to click to collect very basic details, which would only make our homepage less valuable, and wouldn't improve our stats in any way. The end result is a homepage that's highly informative, scannable, and devoid of gimmicky news, an outcome that runs counter to major trends in media.
Techmeme has never run interstitials, page takeovers, mouse-over ads, auto-playing anything, or even banners. Arriving at a sustainable ad model for Techmeme was never going to be easy. When you don't host articles, you don't rack up as many page views, and moreover, you don't have very sharable content, the kind that attracts monthly unique visitors (i.e. entices bored people to leave Facebook for a few seconds). In 2015, supporting an online news operation with advertising when your page view and unique visitor numbers aren't massive is always an uphill battle. Media sites in this predicament are often tempted to run ads units that pay more but repel and infuriate readers.

Fortunately what Techmeme does have is the attention of the people who lead the tech industry. (Ask your CEO "where do you get your tech news?") When a news destination is a hub for industry decision-makers, companies will want to reach its readers, making it possible to sell the far more welcome form of "ads" that Techmeme does include. These include posts from sponsors' blogs, catchy taglines from companies that want you to check out their job openings, and events that companies want you to consider attending. While not all companies are used to making these sorts of marketing buys, many are learning how, and Techmeme is here to serve them.
Techmeme has never taken VC: a lesson for some, but a model for none. I always hoped it would be possible to build and sustain Techmeme without the aid of venture capital or debt. Not so much because of real or perceived issues around independence or autonomy, not because "bootstrapped" is an impressive badge of honor, and not because I disliked investors (some of my best friends are VCs!) But rather because the media business we envisioned by its nature was just not destined to become the "unicorn" VCs always want, at least in its first of several possible iterations. So proving sustainability always seemed necessarily part of the plan. Moreover, in casual conversations with investors over the years most ideas for expansion suggested to me seemed destined to fail in my estimation (a fate borne out in a few cases by actual companies that carried out such plans).

As Techmeme never did raise VC nor even attempted to, my initial hope of course became a reality.

And yet I don't want Techmeme to be any kind of flag-bearer for bootstrapped startups, because the lessons we learned are not so widely applicable, especially in 2015. While there are lessons to learn from what we've built, it's hard to imagine a business starting today for which Techmeme's experience can serve as a direct model. Furthermore, I wouldn't even claim with certainty that forgoing VC was the best decision for Techmeme. Just because most ideas for rapidly expanding Techmeme are flawed doesn't mean all of them are, and as we've found after some consideration, there may be some good ones out there!
This post originally appeared on LinkedIn
.
Techmeme adds an author leaderboard, introduces a linking-based metric to rank by "Leadership"
Update for July 19, 2017: Today, Techmeme's Leaderboards changed in three ways:
The biggest difference is that we modified how "Leadership" is computed to better reflect the volume of inbound linking authors and publications receive from industry sources. Previously, a post simply appearing on Techmeme would boost Leadership inordinately, even if had attracted relatively few inbound links. Now we only take into account posts that receive above a basic threshold of inbound linking. As a result, originators of scoops and other highly-cited pieces are better represented.
Both lists now draw on 180 days of Techmeme history, up from 90 days.
We now only show 50 entries instead of 100, since comparisons past 50 are less meaningful given the small differences in "Presence" or "Leadership". (If you desperately need more data for any reason, tell us why at )




Earlier post: Today we've expanded our Leaderboard page to offer four lists instead of one. In addition to ranking publications, we now rank authors. On top of that, we've introduced a second ranking method that takes links into account, to better reflect more influential writers and publications. We've also expanded the window of Techmeme history the leaderboards draw on from 30 to 90 days. A larger data set makes the results less susceptible to daily swings.

Why this? Why now?

To explain today's changes, let's rewind to the year 2007, before Techmeme had a leaderboard. Back then, a story would appear on Techmeme when our algorithm found the number of tech blogs linking to it was sufficiently large. As a result, Techmeme was a good reflection of technology's most-referenced stories. Given this function, people soon began asking for a leaderboard of the publications most frequently on Techmeme, since it would reflect the most-referenced publications. So when we eventually did introduce it in October of 2007, it made a splash.

Over time, however, we changed our story selection in a manner than muddled what this leaderboard represented. In December of 2008, we introduced human editors, giving them final say on the stories we posted. Increasingly, many of our selections reflected not the most-linked stories in tech, but rather accounts of news events our editors decided were best for our readers. For instance, when a big announcement appears on one of Google's blogs, we'll often post a story from a publication putting the news in a fuller context, even though Google's announcements usually receive far more links than any news publication. As a result, our leaderboard over time tended to weigh sites that explain news a lot more than it did originally, making it harder for sites specializing in scoops or insights to rank as highly.

Even as our leaderboard became less about the most-cited publications, interest grew in tracking something else on Techmeme: authors. For several years, CrunchBase published leaderboards ranking authors using data scraped from Techmeme's archives. (CrunchBase removed these lists following their redesign.) Meanwhile, the continued rise of Twitter and Facebook, which make it easy to follow individuals, combined with the escalating battle for tech writers with its much-ballyhooed poachings, led to an environment where personal brands for writers rivaled brands of publications. As a result, someone at nearly every top technology publication on the hunt for talent has asked me personally in recent years for data on the top Techmeme authors.

These two considerations led to the new lists we introduce today. Not only do we finally offer our own author leaderboard, but by ranking publications and authors taking links into account, we restore the original importance of linking in our leaderboards.

The details on Leadership vs. Presence

Prior to today, we ranked publications only by Presence, defined as what percentage of headlines featured on Techmeme came from a particular publication. Presence-based author and publication leaderboards now appear as the third and fourth lists on our leaderboards page. The leaderboard we published up until today, of course, corresponds to the fourth leaderboard here ("Publications, ranked by Presence").

Our new "Leadership" metric measures the amount that tech sites and social media posts captured in Techmeme's tech-focused crawl link to the posts featured on Techmeme. The percent shown in the table is derived by dividing the total value for a given author or publication's posts by the total value for everybody's posts over the past 90 days.

Why the name "Leadership"? First, because other writers tend to follow the writings of these authors with rewrites, responses, and other sorts of follow-on reports. And second, as a fun nod to the notion of thought leadership simultaneously valued and scorned by the industry.

To conclude, some Q&A:

Q: Why are sites from Google, Microsoft, and Apple listed as publications?

A: While it would technically be more accurate to label these as "sources" rather than "publications", most listings in our "publications" lists are publications, and most people will visit these lists to compare publications, so we'll stick with the word "publications".

Q: Why have the numbers from yesterday's leaderboard shifted so much from those shown in the fourth leaderboard? Aren't they supposed to show the same thing?

A: Even though they're both Presence-ranked publication leaderboards, recall we're now using a 90-day window instead of 30, so you're seeing the effect of 60 more days of history suddenly added to the data set.

Q: If a post I co-authored makes Techmeme, does that count toward these leaderboards?

A:

Yes, Leadership and Presence are evenly split between authors when there are two bylines. This is possible because we crawl and record both authors, even though we don't list double-bylines on the front page of Techmeme. You can even verify we're capturing these using a Techmeme author search. A search on

Douglas MacMillan

, for instance, shows posts MacMillan co-authored. Note that if posts you co-author appear on Techmeme and don't come up in searches of this sort, please let us know as there may be a crawling issue. Unfortunately, posts with three or more authors don't count toward author leaderboards.

Q: Will you add these new leaderboards to Techmeme's sister sites?

A: We plan to, eventually, starting with Mediagazer.

Q: Why is Gigaom listed in the publication leaderboards? Didn't it shut down?

A:

It ceased operations

less than 90 days ago

so it's still among the top publications in the 90-day window on which the leaderboards are based. It will fall off completely in a few weeks.

Q: I am not a blogger or publisher so why should I care about these lists?

A: If you ever wish to influence the tech news media, you'll find these are good people to court. But if you haven't figured that out already, you probably won't succeed in influencing them. So never mind.

Q: I love John Gruber. He's great. Why isn't he on your Leadership leaderboard?

A:

Although he's in the top 150, he's not in the top 100, and we only show the top 100. While his posts that make Techmeme do tend to be heavily cited in the tech world, they don't appear there too often

(just twice in the past 90 days)

, in part because he mostly posts links with short commentary, which doesn't work well for Techmeme. Although Leadership is weighted by links, it's only weighted by links on posts that appear on Techmeme. Perhaps in the future, we'll add another list that ranks infrequently appearing yet heavily cited authors higher.

Q: I hate TechCrunch. They're jerks. Why is TechCrunch #1 on the publication leaderboards?

A: While TechCrunch has accrued some haters over the years for various reasons, they offer a lot of exclusive news and a good number of real scoops, even if publications like Wall Street Journal may lead on scoops that concern bigger companies. (Let's hope Verizon doesn't ruin TechCrunch!)

Q: My awesome six-month-old blog, SiliconPrattle, is nowhere to be found on your precious lists. Is this because you're jerks and have blacklisted me?

A: No, in fact we haven't heard of your blog, sorry.

Q: Isn't this Leadership number some arbitrary meaningless garbage measure that you're concocting to justify your stupid pointless leaderboards?

A: It's arbitrary in the sense that it is determined by the sites Techmeme crawls to present its particular filter on the news. But this news crawl, and the resulting link data for computing Leadership represents our very best attempt at capturing the online references to postings that signal importance and influence. After all, our algorithms use the very same link data to recommend posts to our editors and to influence the order of stories on our home page. It's very useful data.
Mediagazer introduces ads for media jobs, and Techmeme's job ads now extend to its mobile site
For nearly four years, Techmeme has offered space on our front page for companies to advertise that they're hiring, and link their job offerings. Unlike typical job boards, Techmeme's hiring area is more of a meta job board, in that it features individual companies rather than individual jobs. Instead of a job description, entries contain a short tagline pitching the company. This unique format, in which companies compose succinct ad copy specifically for Techmeme, was noted at places like TechCrunch when it was first unveiled. More recently, Quartz took a closer look at all the ways companies have presented themselves through taglines in our hiring section over the years.
Today we're expanding our job ad offerings in several ways:

1. Techmeme's mobile site now includes a tab listing these hiring links in full. Previously, hiring links only appeared for visitors to the full desktop site.
2. We've introduced job ads on Mediagazer, Techmeme's sister site for media industry news. These spots will appear both on Mediagazer's desktop and mobile sites, but with a conventional touch: they'll feature individual jobs instead of companies. Why individual jobs? Unlike many of the tech companies advertising on Techmeme, publications usually need to fill only a few specific roles, not dozens. Because entries are jobs, you may see multiple listings from the same company, unlike on Techmeme. Mediagazer's job ads are in fact the only advertisement of any sort on the site, which doesn't offer the paid event listings or sponsor posts available on Techmeme. We've populated Mediagazer's listings with jobs from several media companies at no cost, but will phase out most of these free spots in the weeks ahead.
3. Mediagazer's ads now also appear on memeorandum's desktop and mobile sites. memeorandum is a predecessor of Techmeme that covers political and general news. It still has no human editors, and displays all the idiosyncrasies that come with that. Because it's a sort of reference site for many political bloggers, it makes sense to include Mediagazer's job listing here too.
Who are Techmeme's and Mediagazer's readers?
A number of trends in media have left most news sites catering to a new kind of reader. According to the stereotype, this reader doesn't visit news home pages, relying on starting points like Facebook instead. This reader sees news as just another category of entertainment, an escape or time-killer, and believes "important news will find me", not the other way around. News sites modeled on this reader are pressured to produce ever more content and expand well past their core competency, even when they start with a clear focus and dedicated readership. While all these generalizations do represent real changes in the way many encounter news, they ignore the abundance of news readers who still have specific informational needs arising from career goals and identity. The kind of reader who would make a point to devour The Economist cover to cover, or scan The Wall Street Journal's B-section each weekday. These purpose-driven readers rely on comprehensive, yet well-curated collections of news to update their perspective on their field, because their field is constantly changing.
Techmeme and Mediagazer serve the purpose-driven reader. Unencumbered by business models predicated on coverage creep and attracting fleeting "unique visitors", we're free to surface only the most essential tech and media stories for our readers. Because we do this so well, and with no real substitutes, most of our traffic arrives from bookmarks or typing in the url, not through referrals. Our curious, informed, forward-looking readership spans the engineers (Techmeme) and writers (Mediagazer) working on the product, to the managers and executives guiding them, to the founders and CEOs leading the way (several of whom have indicated they're readers).
If you're looking to recruit the kind of person who visits Techmeme or Mediagazer, do consider featuring your job openings on these sites. Money spent on social networks or billboards only goes as far as reaching…well, people who pay attention to job ads on social networks or billboards.
How does it work, and where do I inquire?
- All listings appear continuously, i.e., are not rotated off the site throughout the day.
- Weekly reminders of our listings will appear in our @Techmeme and @Mediagazer Twitter streams. Here are example tweets for Techmeme and for Mediagazer.
- Techmeme placement is limited to technology companies with a jobs page with at least five open positions. For more info, inquire at .
- Mediagazer placement is limited to editorial, product, and leadership roles in content/media companies. Inquire at .
- These job ads support the people who make Techmeme and Mediagazer possible, which includes a growing international team of professional editors. And no, we still have not raised any venture capital.
Why Techmeme's calendar is now listing even more events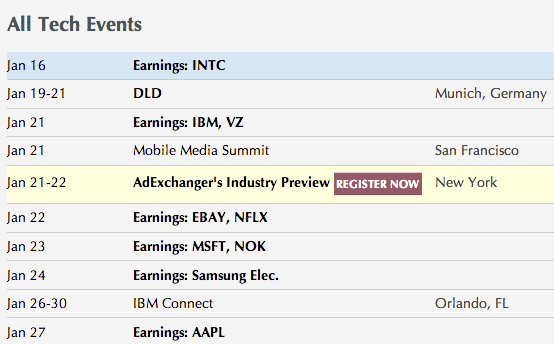 Nearly two years ago, Techmeme began listing technology events, both on its front page, which showed events expected to result in news on Techmeme, and a dedicated events page which showed the same list, but projected several more months into the future.
Today, we're shaking things up a bit by relaxing our inclusion criteria for the dedicated events page. Now we'll include most technology events there, even if we don't expect them to produce Techmeme headlines, provided they're still national or international in scope (e.g. events people fly to), and can accommodate hundreds of attendees. Meanwhile, the criteria for events on our front page will not change: events shown there still should produce news that makes Techmeme.
Why are we doing this now? It seems that the growth in the number of conferences that don't produce Techmeme headlines is outpacing the growth in conferences that do. Though we could have continued ignoring that first group, many such events are still of considerable interest to the industry leaders that make up our readers. So we've decided to begin recognizing them, and better position ourselves as technology's most useful event calendar.
How can you list your event? Send over your event details to , and we'll place (or decline to place) your event accordingly. Meanwhile, to list your event sooner on our front page, or highlighted in yellow, paid options are available. Paying to feature your event on Techmeme not only increases its prominence to Techmeme's readers, but also supports the people who make Techmeme possible. For more information, just email .